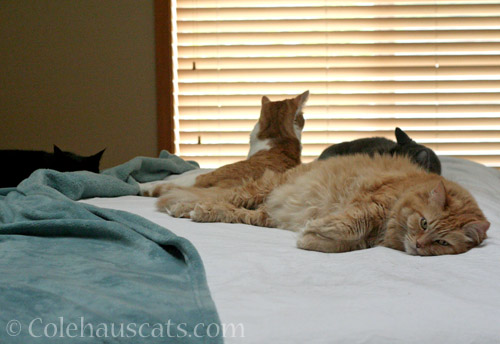 It's been a while since we've checked in on who gets along with who at Colehaus. In the time since Zuzu, Sunny and Ruby became angels, group dynamics and hierarchy has changed and currently, we're without a Patrol Sergeant. Not that everyone, exactly, understands that.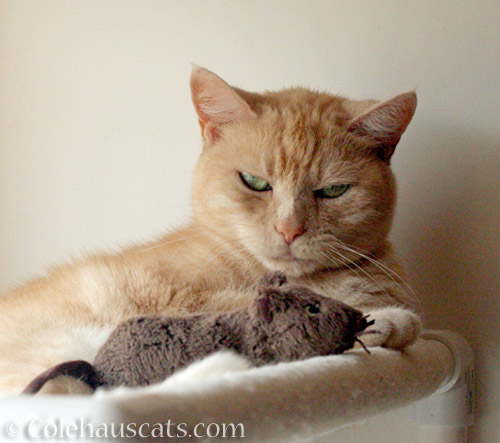 Miss Newton, the oldest, is still the glue cat, the one who brings everyone together to feel at home and who gets along with everybody else, yet, even at her age and health level, sometimes isn't afraid to roughhouse with Quint or Tessa. Adored by Pia and Olivia, Miss Newton tolerates the squirt, Viola, who always shows respect toward her elder.
Tessa, on the other paw, hates Viola with all the burning fury of the oils from a thousand chopped jalapenos meeting a paper cut-laden thumb that is immediately, confusingly and most regrettably placed in a human eyeball. (Mom swears she chopped just one jalapeno for dinner preparation last week but her eyeball and paper cut-laden thumb insist differently.)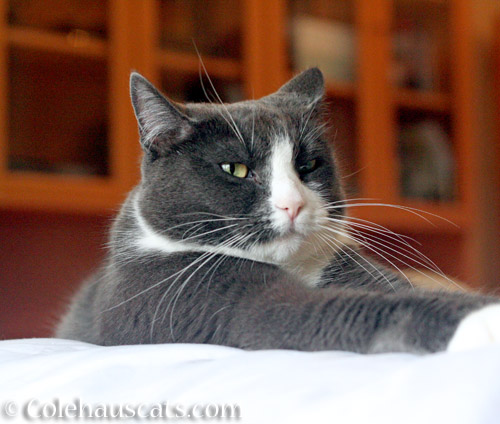 Viola isn't too keen on Tessa's existence, either, but very rarely instigates an encounter. She's a good girl who sticks mostly to just Mom or Dad, and while she gets along with everyone else, she's the one true independent cat of the house. Her angel mama Zuzu would be proud.
Back to Tessa, she naps just as often alone as with Quint and won't cut a nap short if Pia or Olivia join the pile. Just between us, Tessa is turning into a Teddy bear, just as Dad predicted would happen five years ago. Shh . . .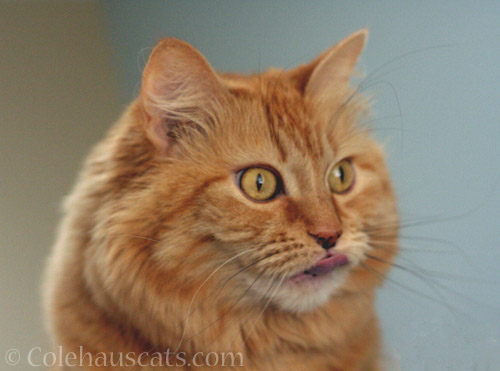 Pia, the Ginger Princess Diva who KNOWS she is, loves Miss Newton, is indifferent towards Tessa and Olivia, is most apt to hiss at Viola and always, always, ALWAYS growls at Quint . . . but only at night when Quint takes the prime sleeping spot tucked in next to Dad. You'd think she'd learn and grab the place earlier in the evening, but you'd be wrong.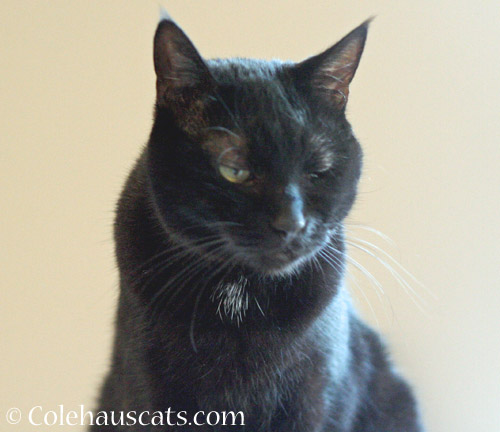 Olivia goes from acting as if she'd like to play with Viola one minute to looking like she'd like to smack her into tomorrow the next. But she'd have to catch Viola first. That squirt has long, springy legs and no one can keep up with her. Olivia still loves Quint, and Miss Newton, and is completely indifferent toward Pia and Tessa. That doesn't prevent her from spying on them, though. Olivia is ALWAYS watching someone.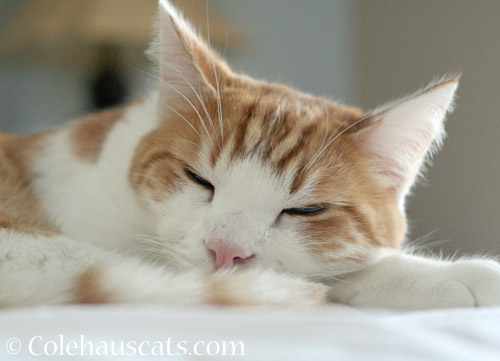 Lovable lug Quint gets along with everyone, except Pia and only at night (see reason above), and doesn't hesitate to roughhouse with Olivia and Tessa. He seems to be aware that Miss Newton is aging and is gentle with her. Quint and Viola often bump noses but that's about as close as they get anymore.
So, who shows Patrol Sergeant tendencies? Maybe Tessa but a Patrol Sergeant shouldn't be a bully. That eliminates her. Maybe Quint but a Patrol Sergeant shouldn't be a push-over either. Olivia? She enjoys spying on everyone too much, and tattling to Mom. Should a Patrol Sergeant be a tattletale? Zuzu wasn't. Neither was Sunny. Both ran to the scene of any shenanigan and by simply making their presence known, defused situations. Age and health eliminate Miss Newton.
That leaves Viola, the youngest and the least affiliated-with-anyone else candidate. She'd show no favoritism. She's not a tattletale, nor a bully and definitely not a push-over. Plus, she has the added bonus of agility. She just doesn't have the age, experience or the respect of anyone else. Yet.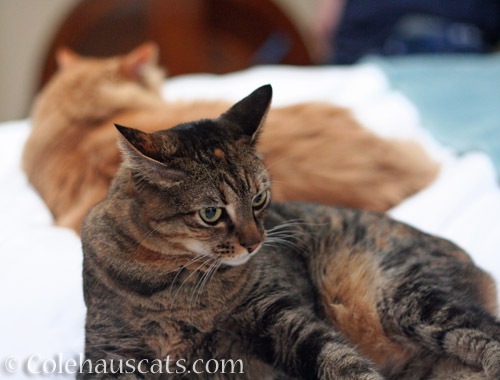 ~ ~ ~ ~ ~ ~
A Colehaus Cats flashback:
2018 – No post
2017 – Is it Spring yet?
2016 – No post
2015 – Friday the 13th with Olivia
2014 – No post
2013 – Wednesday Woots!
2012 – No post