All of us here at Colehaus Cats wish you a wonderful, safe and healthy 2014! Thank you for visiting us, reading our words, enjoying our photos and leaving comments. We hope what we're doing here works for you and that you have fun on your visits. As always, we're open to suggestions to help make this a better place!
Before the celebrating really begins, let's get on to that 2013 recap.
What a challenging, yet glorious year 2013 was. In January, Ruby officially joined our family and was learning our schedule including the nightly brushies ritual. Ms. Stella O'Houligan suggested Ruby have her own blog post day and a year of Ruby Tuesdays began. Kittens Tessa, Pia, Quint and Olivia had become friends and were just entering their teenage years. The four were so young and small back then!
February saw lots of Wordless Wednesdays, Tessa troubles, Olivia sharing and Ruby playing just a wee bit too hard with Miss Newton. Or Miss Newton's tail, rather. We're glad that fur finally grew back! After an inspiring warm week, Quint started work on his spring 2013 paintings. And we lost our sweet comfort cat Seth, who had been feeling off for a few weeks, almost rebounded to health only to have his big heart give up. We think of you often, Seth, and know you are having the time of your life with all the others at the Bridge.
In March, Maxx was stilling residing outside the master bedroom, otherwise known to him as his Servant's Quarters. Ruby was experimenting with being out of the room too, but only on rare occasions. Pia grew her floof, Olivia discovered a love of baskets, painter Quint was interviewed, painted a special project for a special and helpful friend and went out shopping and Tessa was… Tessa.
April brought Ruby's decision to remain a bedroom girl, Tessa got flowers, Quint shopped for his own art supplies and there was an epic second Kissing War!
Tessa showed both her loving and troublesome sides in May, not that that is much different from every other month. Quint was inspired to paint more after falling in love with our backyard flowers. He also tried to find a playmate in Maxx who is most definitely not the playing type. And there were lots of Ruby Tuesdays and pretty Olivia shots to round out the month.
June included Mancats and one of Quint's favorite paintings going to a wonderful auction. There were sleeping kitties and a gatekeeper and a new Kissing War with new players. Pia went missing for a while and Olivia felt the need to get some things off her chest.
In July, we showed off tongues and big feets, a flashback kitty and personalities. Geoffrey, the outside feral who had finally befriended Mom, was lost to FIB and a new feral house was built and dedicated to his memory. We had visiting baby raccoons, more Ruby Tuesdays and half the group went for their yearly V-E-T visits resulting in another grumpy Tessa day. But what's new, right?
Pia professed her love of Dexter of Cherry City Kitties to the world in August, Quint came up with his own version of Van Gogh's "Starry Night" and a festive summer flowers series to help the WCGHS shelter cats and everyone recapped what they did over their summer vacation (Hint: Everyday was pretty much the same). We had a Mancat visitor to Geoffrey's house, Tessa and Olivia proved they had secret tabby stripes and the entire household became Tabby Cat Club members!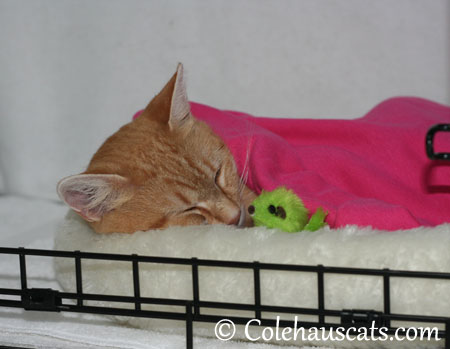 September opened a new chapter at Colehaus Cats when we agreed to foster mama-to-be Erinn Zuzu, whose kittens didn't show up anywhere near when expected. But Erinn did get a LOT of nicknames out of it all. We had more Mancat visitors outside, tolerated air conditioning installation workers inside, switched to a dedicated Colehaus Cats Facebook Fan page, saw Maxx assemble his troops and there were cats with fruit.
In October the Niblets arrived at last! There were lots and lots and lots of Niblet updates, including near-daily photos, naming day and our Saturday Dear Niblets letters began. In between all that Niblet stuff, Quint wished to thank everyone who helped him help assemble funds for Erinn Zuzu and the Niblets V-E-T expenses (Zuzu's spay day is in January!) and he received a wonderful gift of pretty art paper from our friends at Twinkletoe Tails. Tessa convinced us she was every bit as tough as any Mancat, Ruby had her Tuesday comments and everyone weighed in on the Niblets.
Wee Wednesday Words peppered November with a Thanksgiving flashback of some other Colehaus kittens, Maxx had questions, Ruby shared her Tuesdays and Pia shared a typical day in her life. The always-helpful Olivia offered decorating advice, Niblets learned to eat on their own, had their first V-E-T visit and Viola Niblet got her first time-out. And there were so many special Niblet photos!
December brought cards from wonderful friends and treats and toys from a secret Santa (even after the day of Airing of Grievances). There were meetings and requests, some holiday painting and a Niblet surprise. And a certain painting boy who became a calendar cover cat! We had very cold weather and felt bittersweet sadness in our hearts with the knowledge of Niblets soon finding their forever homes. But they all found the best ones ever! Even Erinn Zuzu who is known now just as Zuzu, because she likes it! Welcome Zuzu and littlest Niblet Viola to the Colehaus Cats family!
There you have it, 2013 recapped. We're looking forward to what the new year will bring. May you have a fabulous 2014 filled with wonder and excitement, and most of all, peace and love.
Thank you for reading us.
The folks of Colehaus Cats