After many Facebook pet pages were deleted or converted from Personal pages to Fan pages without owner permission recently, we decided to convert our Colehaus Cats Facebook page over before it done unexpectedly for us. We hope you'll pop over and Like us, even if you are already our Facebook Friends.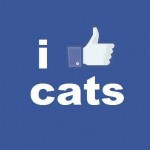 Boy, the things they don't tell you will happen when you convert a Facebook page. The biggest surprise was losing all our friends (all converted to 'Likes' which is 'kind of' the same) and we no longer have the 'Home' button so we can't keep up on everyone. We feel a little bit like we're in exile and even though we'll continue as always to post updates to the Colehaus Cats Facebook page (especially on Erinn Zuzu and her upcoming baby Niblets), we can only communicate through comments. To counter this in a roundabout way, we created a Facebook account for Colehaus Cats mom, Carole Cole, and she hopes you'll accept her friends request when she rediscovers you. If you wish to be friends and she hasn't sent you a request yet, shoot one over to her. She'll love that!
~ ~ ~ ~ ~ ~ ~ ~
Miss Newton says: Did you know today is International Cat in a Basket Day? No, it's not really. I fibbed. But it should be, don't you think? There isn't even anything like that. Who's fault is that do you suppose? How hard could that possibly be to start one? I ask you, what cat doesn't like a basket especially when a box isn't handy? Note to self: After beginning International Cat in a Basket Day, lay plans for starting International Cat in a Box Day. I say we mew loud and clear to the highest authorities in the land and demand such a day!
And I'll get right on that, after my nap in my purr-fectly-sized, color-coordinated, cozy basket.
~ ~ ~ ~ ~ ~ ~ ~
A Erinn Zuzu 'Cantaloupe' Niblet update:
What? You again with that flashy box? Okay, at least you're not focusing on my belly this time…
Uh, I probably shouldn't have said that, huh? I'll bet dollars to donuts you mean to snap a pic of my belly…
… and you don't disappoint, lady!
Little yet from the baby Niblets. We did feel movement last night and today, we think we saw belly movement. Erinn's up another two ounces but doesn't show any sign of nesting yet. She's just a happy, round girl who can't get enough head scritches to suit her needs. So guess what we spend a lot of our time doing? That and kisses, of course. Can't give this sweetheart enough kisses.