We're taking the day off today. This was pre-approved by the Patrol Sergeant team of Sunny and Zuzu and authorized by Miss Newton… who then used it as an excuse to cross getting into trouble off her daily calendar.
~ ~ ~ ~ ~ ~ ~ ~ ~
What better way to celebrate a cat in trouble than by putting together a puzzle of said cat in trouble? Here you go, 70-piece Miss Newton on High Trouble courtesy of Jigsaw Planet.
~ ~ ~ ~ ~ ~ ~ ~ ~
One boy who's happy to have the day off is Quint who painted and painted last week and succeeded in not having a single photo turn out of twenty-two taken while he was painting. Really, how does that even happen? You'll have to ask Mom who whacked something against the camera and sent it into some weird state. We're saving one or two of those photos for a future bad-photography post.
Even so, he's pretty smug about his latest painting series, both accomplished with a little help on the side. If you are so inclined, he'd love for you to see visit them at his art shop and perhaps welcome one or two of them into your home.
Quint's second run of Snow and Cedars, a compliment painting to his original Snow and Cedars series that sold out before Christmas.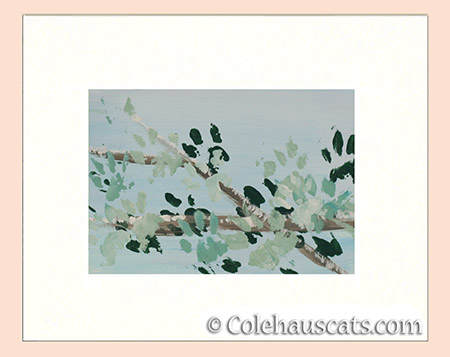 Something new showcasing a view from a favorite window – Winter Berries set against an early winter's dawn.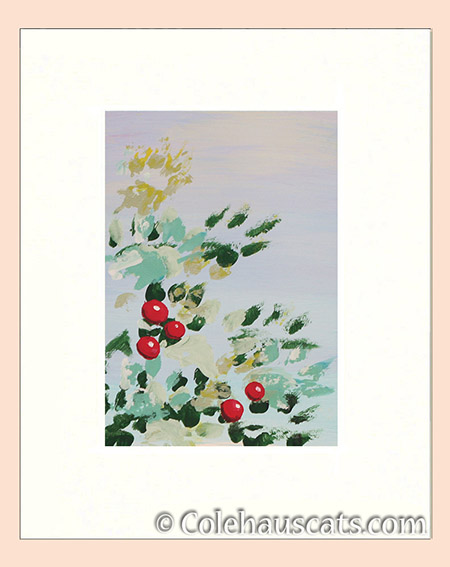 ~ ~ ~ ~ ~ ~ ~ ~ ~
We're still encased in snow and ice here and probably will be until Wednesday which just happens to be our Five Year Blogoversary day! We're warm and toasty and doing just great! Hope you are too. See you Wednesday!