Please forgive our announcements: A quick reminder that Quint's original paintings are available for holiday gift giving. Click on Quint's Art Shop icon over on the right sidebar –>
We're also pleased to say that tomorrow, December 1st, we'll be a part of the very first #NipClub Holiday Bazaar on Twitter from 6 P.M. to Midnight EST. Click on the link to see which of your favorite shops are participating and come join in on the festivities! Our Twitter name is @ColehausCats
~ ~ ~ ~ ~ ~ ~ ~ ~ ~ ~ ~ ~ ~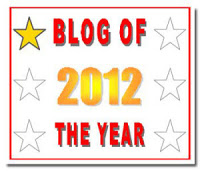 We were honored with this Blog of the Year 2012 award by those furry sweet peas from
Twinkletoe TAils. Mica Minnie Moo, Julie, Carlos Raphael Camaro and the sweetest Sweet Pea "Oui Oui," as everyone knows, are Internet sweethearts and we like visiting them often. We really liked seeing the bellies recently and loved reading about their Mom's very first cats.
This Blog of the Year award is terrific because you can get it back six times! And when other kitties who receive it link back, another star is added to yours until they are all lit up. How pretty would that be!
Thanks, Twinkletoe sweethearts. We are honored and will do our part to help you light up your stars.
We wish to pass this award to the following kitties and hope you have fun with it if you don't have it and if you do, that it helps you with your stars:
– Cat Chat
– Whisker Messages from a Church Cat
~ ~ ~ ~ ~ ~ ~ ~ ~ ~ ~ ~ ~ ~
It's that frantic time of year. I remember ever so slightly another family going through this hair-pulling madness of digging out boxes of sparkly, glittering things, bringing a giant scratchy post inside with all the terrific outdoor whiffies anyone could ever want and then rushing to-and-fro getting this and that and putting it all just so. It was crazy! But for as much as I wanted to use the scratchy post, my family kept shooing me away outside where it was cold. And so, I runned oft.
This Mom, who isn't my first Mom (but my last Mom, she promises) says there'll be no scratchy post here this year because of the "kittehs," whatever that means, but that hasn't stopped all the other silliness. Why, there are baubles and shiny things popping up all over the place. Not that I don't like it; it's good for a batting session or two, or until the thing doesn't roll around so well anymore. Definitely not cat-approved in the toy department, in my opinion!
But as I'm watching Mom and the Dad from up on high, safely away from all the hustle and bustle, I just don't get it. Slow down, I say, savor the moments that are slipping away. Oh, and I'll take my holiday pettings now.
I mean, an entire month to shiny things? Now, if I were in charge, there'd be an entire season dedicated to treats! Followed by another season of different treats, all intertwinned with Adoring Season because we deserved it, and the weeks of Petting. Can't forget that last one. That all makes perfect sense, doesn't it? But a whole month to a scratchy post and what I can only describe as Mom's short-lived toys? Seriously?