Thank you for all the good wishes for Quint's participation in the #NipClub holiday bazaar last weekend. We were so honored to be a part of that evening and we had a blast! Right now, his artwork is traveling across the country and overseas, showing off his International appeal!
Then, we were extra excited to receive the 7 Things About Me award from our friend Nerissa!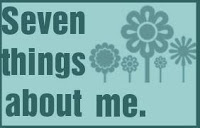 Nerissa's a sweetheart. He's got a great blog that we enjoy a lot and has lots and lots of friends and if you aren't reading him, you're missing out. So go on over there. It's okay to go right this minute – we'll wait.
*tapping fingers*
If you hadn't already guessed it, we like to share, be it awards, fun, photos, treats…well, if Quint hasn't vacuumed those all up first. And we'd like to share this award with everyone!
"What? Not enough space on the Internets for us to do that? *sigh* Okay, *grumpy voice* we'll try to narrow it down to seven."
– Ms Stella O'Houligan and those cuties over at On a more personal note.
– Prancer Pie, Princeton, Precious and Princess at Prancer Pie.
– Nicki and Derry at Fuzzy Tales.
– Ayla, Iza and Marley over at Mark's Mews.
– Madi (and Mom) at Madi and Mom.
– Toby and Leia from the Whiskeratti.
– Faraday, Maxwell and Allie at A Tonk's Tail… err,…Tale.
We guess that also means we need to tell you 7 things about us that we haven't already shared; a tough thing for us since we tend to tell all (and some wonder why Tessa and Pia are such little tattletails…hmm,). And then we remembered, "Wait a tic! We've got 7 kitties! Surely, no one wants to hear 7 things about each one (or maybe you do *shrugs*)."
Okay, here goes:
1. Seth: I used to be extra sensitive about my tail nubbin. Wouldn't you be if someone docked yours when you were just a kid? Mom and the Dad noticed that about me from the start and they seem to make it a point to give me space back there. I respect that.
2. Maxx says: I'm the only one who's allowed to spend all my days and nights in Mom and Dad's room. Everyone thinks I peed downstairs last month because I don't like anyone else but if you saw how cushy this room is, you'd understand why I wanted to make this my personal pad. Waiter, more nip and another round of sardines!
3. Miss Newton: I love my family and I tell them this every day, multiple times actually, and with such enthusiasm. I really love my Dad best of all, but no one is allowed to hold me. Not even Dad. Ever. Who needs messy furs anyway?
4. Tessa: Danger Cat's my name 'cause danger is my game…unless I'm lounging around thinking of ways to spice things up around here. When I'm doing that, I always, ALWAYS, criss-cross my front paws. Because it's cute and being cute is the antidote for being in trouble. *wink*
5. Pia Bean: One of my favorite times of day is in the evening when Mom is clickity-clicking on the keyboard. She lets me sit on the chair with her until I get too comfortable and pin prick her back too much with my kneeding claws. She's pretty tolerant and puts up with it for longer than anyone should have to. I love my Mom, but I don't like her new nickname for me – Pia Pinprick!
6. Olivia: I don't meow. Not that I don't know how, it's just…I don't know, I prefer to chirp. So much more charming and lady-like, don't you think? I'll bet boy cats like it.
7. Quint: Growing boys need lots of room, particularly to sleep. And when I sleep, I s-t-r-e-t-c-h o-u-t on the couch and take up two cushions and don't mind who sees my spotted belly and um, those other parts. Hey, I'm a boy that way.