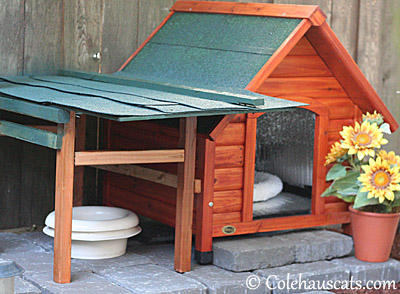 Geoffrey's House is ready for our rainy fall weather. Last week, Mom spent a whole day cursing working with scrap wood and shingles to make a covered area that, hopefully, will keep most of our Pacific Northwest rain out of the outside kitties' food bowl.
Mom also wishes everyone to know that she couldn't measure or cut anything square if her life depended on it. Even with the use of a square! She says she built and tore apart this covered patio three times before finally slapping it together and calling it done. We think it looks okay. As long as it works, right?
And then, just as we knew would happen after Geoffrey's passing…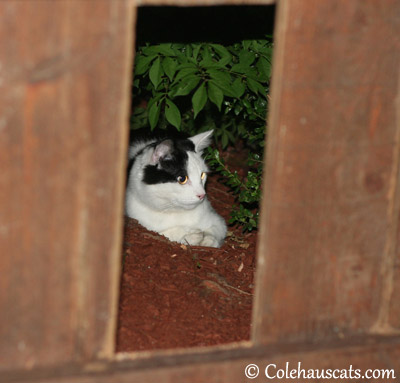 There's a new kitty in the neighborhood!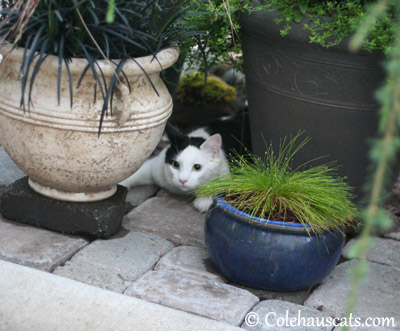 Our Mom calls him Mo and says that's a cross between Domino and Oreo, the two names she thinks most people might call a handsome black and white boy like this. Mo is a newly moved-in neighbor's cat, one of three (!) who are allowed to live outside and the only friendly one of the bunch. Mom thinks he's a year old and neutered. And as soon as he'll sit still long enough to listen (he's very bouncy), she'll go over the rules of living in our garden – No picking on birds or squirrels. Stay away from all neighbor kids. And visit as often as you like. Geoffrey would like someone like you using his house!