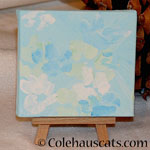 If you live in the states, there's still time to pick up one of Quint's original paintings in time for holiday gift giving! Or if you're looking for a little something wintery to bring indoors (without the chill and melting ice), check out his Winter's Frost series by clicking on Quint's Art Shop icon over there on the right sidebar –> or visit his art shop directly by clicking here.
~ ~ ~ ~ ~ ~ ~ ~ ~
Thank you for entering to win one of two kitty calendars that include calendar boy Maxx alongside many beautiful and squee-worthy others. We wish we had thirty-three more calendars to pass along, one for each of you who entered, but we only had two to give away. (Note to self: Get more next year!)
We printed out all the entries, cut them out, and spread them on a big piece of felt. After an initial bout of WTF-ery, Maxx wanted nothing more than to lay on the group of email entries (ooo, felty!) and drool, like he does. Just in case he didn't find any two to his liking, we had an Internet random selection picker waiting in the wings, (no, not Viola like we used in our last giveaway).
Then he got serious.
Maxx walked around a bit and had to sniff each entry, you know, to be fair.
Maxx picks his first winner!
And decides on the second winner, after Mancat-handling the entry a bit until it fell apart.
Miss Newton, of the law firm JinJur4all, Inc., was our official winning selection judge.
And the winners of our two Feline Medical Clinic 2015 Cat Calendars are:
Annabelle and Angel Abby
and
Laila & Minchie
Congratulations! Look for our email asking where to send your calendar! Thank you all for entering!
~ ~ ~ ~ ~ ~ ~ ~ ~
And finally…
"… and then I checked my email and remembered I have today through the New Year before I have to go back to work."
Dad, I love this story! Tell it again!