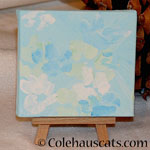 Quint has Winter's Frost paintings in both canvases and art paper now! Perfect for that unique person on your shopping list, Quint's paintings are original, one-of-a-kind pieces of art smartly priced for holiday gift giving. Click on Quint's Art Shop icon over on the right sidebar -–> or visit his art shop directly here to see what else of his might be looking for a forever home.
~ ~ ~ ~ ~ ~ ~ ~ ~
Our 2014 Colehaus Cats Christmas eCards are ready for download. Click the eCard of your choice over on the right sidebar –> and download either Maxx or Ruby. Or both! They won't mind.
~ ~ ~ ~ ~ ~ ~ ~ ~
Back in August, Pia's boyfriend Dexter of Cherry City Kitties sent her a special kick stick that's tough enough to handle, um, let's just say her 'roughness' when it comes to well, most everything. We're happy to report it has held up beautifully!
But is it tough enough to handle the Squirt? Of course! All gentle Viola is interested in is licking it and loving it and sharing her winter sunpuddle with it. Now this girl could teach her sister Pia a thing or two!