Our Flashback Friday couldn't have been better timed with yesterday's daily dose of dogs (aka cats with your coffee) sharing our Winnie's Wish brick story. Go have a peek if you have a minute! Thank you, Chrystal!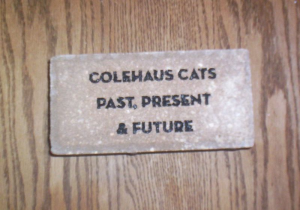 ~ ~ ~ ~ ~ ~ ~ ~ ~
Forgive us for the quality of these photos. This is all we have of our first bobtail kitty, the first boy kitten we picked out together back in 1989.
We weren't terribly original with his name – Bob, it was, but we loved him fiercely. His terribly short life taught us never to trust those big name pet stores and the importance of adoption over sales.
Though it's been so many, many years, we'll never forget you, Bob.
~ ~ ~ ~ ~ ~ ~ ~ ~
It's been nearly a year since our second bobtail boy left us. Our comfort cat Seth won't soon be forgotten either.
~ ~ ~ ~ ~ ~ ~ ~ ~
A short flashback to… yesterday! Zuzu is healing well from her spay surgery over the weekend. She's quieter and not getting up in everyone's grill like she used to. And she hugs daughter Viola a lot now. We like the more mellow Zuzu, but that's not to say she doesn't still rip it up pretty good when she gets to playing! We love these bobtail girls!