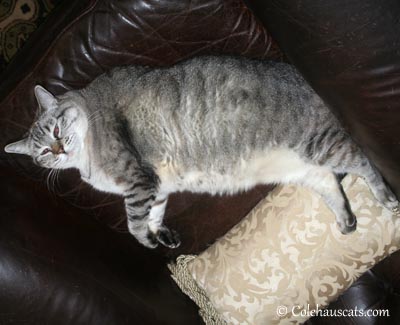 Hey-ho! It's me, Maxx. Enjoying the holiday season so far? Me too. Extra activity around here doesn't bother me in the least. Well, not too much. While it's true I've been just a wee bit in the doghouse lately, I'm catching up on my sleep and we all know how important that is!
When I'm not napping, which is almost constantly, I remember my youth, not that I'm old now or anything. You didn't think that, did you?
Hey, I just remembered something! You never saw me as a young man, did you?
There I was, out in the wild, fending for myself; without claws, mind you, because someone took them one day. Yeah, I'll admit now I was hungry near all the time back then and my eyes were getting gooey and I had a sniffle and a bit of a limp. But then the lady found me and didn't mind me biting her every chance I got. Mmm, her fingers were tasty! Still are, MOL!
Anyhoo, I became an indoor man with fishies served to me night and day. Fishies with mouse sauce. Chicken bites with fish sauce. Turkey in cow sauce. I barely had to lift a paw and a platter of yum was briskly brought to my side. Why, it was enough to transform a little man into a portly harbor seal!
Hey! How'd this get in here? I resemble that!
Ahem! I've been on a diet for almost a year now. A slo-o-o-w diet because Mom gets like she gets over such things – too worrisome, and I've lost a little weight. Nothing major, just enough that this year, I think Santa will happily assume I didn't eat all his cookies again! We'll have to see about that.
Mom: Maxx, are you talking about the cookies again? Didn't we just have that talk recently?
Yes, Mom. *whispers* Can't stop me from dreaming about them, though.