Our 2014 Colehaus Cats Christmas eCards are ready for download. Click the eCard of your choice over on the right sidebar –> and download either Maxx or Ruby. Or both! They won't mind.
~ ~ ~ ~ ~ ~ ~ ~ ~
Viola says: I have lots of toys. Technically, the toys belong to everyone but not everyone plays with them. It's not like there's dried spit on every single toy. Lots of the toys in this Trap-a-Cat box hardly have anyone else's smell on them, other than mine!
Let's see, there's an IKEA rat here – he's buddies with big brother Maxx's Busy Bee, a couple of kick sticks, two crinkle balls, a swirly ring, a catnip pillow, a leather mouse, a braided felt pull, and a milk jug ring.
Of all my the toys, I think I might like this Neko Fly the best. It's seen better days, my dad says, because the fur is almost gone. My mama Zuzu likes to chew on it a lot. I don't mind my mama's spit 'cuz she's my real mama.
She's showing me her best left-handed whappy paw here and I'm trying to mirror her moves. She's good!
But of all the toys here, and there are lots, sometimes the best toys are the simplest ones. I LOVE feathers the best! Luckily for me, there's usually one or two of these things lying around outside. A quick wash and dry and I'm free to play to my heart's content.
Or until I bat it under the refrigerator. Gee, there must be enough feathers under there by now to make up a whole bird! And when that toy comes out to play, I'll be all over it!
~ ~ ~ ~ ~ ~ ~ ~ ~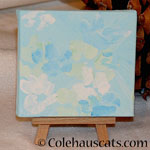 Quint has Winter's Frost paintings in both canvases and art paper now! Perfect for that unique person on your shopping list, Quint's paintings are original, one-of-a-kind pieces of art smartly priced for holiday gift giving. Click on Quint's Art Shop icon over on the right sidebar -–> or visit his art shop directly here to see what else of his might be looking for a forever home.