Zuzu (Erinn)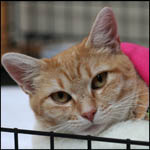 A stray picked up mid-August 2013, Zuzu Erinn was brought to the attention of the West Columbia Gorge Humane Society. It wasn't long before shelter volunteers discovered she was expecting. Her due date, unknown at the time, was October 4, 2013.
Zuzu Erinn was a petite, short-haired, buff-orange, bobtailed cutie with a lighter muzzle and chin. Her estimated age was four years old (per exam in late August 2013). She was captured with two five-to-six month old ginger boys, one bobtailed, one with a tail, who may or may not have been her kittens from a previous pregnancy. They were neutered and adopted together out of the shelter.
Zuzu Erinn was adopted into the Colehaus Cats family in late December 2013. Her name was changed to Zuzu, dropping the Erinn part, because she liked it that way.
Sadly, on September 25, 2017, Zuzu passed away of renal failure. She was a master at hiding her illness and never once complained. We miss her terribly and will always hold ourselves accountable for her death. Her final blog post can be found here.
The Niblets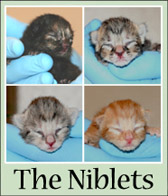 Zuzu's kittens, The Niblets, were born on October 4, 2013. Their births were shared live via posts on the Colehaus Cats web site and on the Colehaus Cats Facebook page. It was an exciting four hours filled with well wishes from friends around the world.
In order of birth, Illy was a beautiful, dark Tortie female. Viola, the smallest, is a dark ticked Tabby with tan/orange Tortie undercoloring on her face and paws, and is a Manx. Robbie was a light gray Tabby with huge eyes and with a short bobtail like her mom. Russell, the last born, was a laid-back, orange Tabby boy.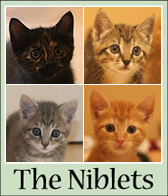 All Niblets seemed about the same size at birth (Niblet weight chart below to see how off we were) and all did exceptionally well. Zuzu was a great mom and knew exactly what she was doing.
Robbie, who fooled us into believing she was a boy for eight weeks, was adopted first in early December 2013. She got along great with her forever home canine friend Sophie who thought she was a feline herself.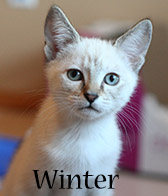 Upon the adoption of Robbie, we were asked if we would take in Winter, a blue-eyed cream-colored siamese/snowshoe(?) mix kitten just two days older than the Niblets for a few weeks of extra socialization. Everyone took to her instantly, including foster Mama Zuzu. Winter was a very good girl and so, we made Winter an honorary Niblet.
Russell, the only Niblet boy, left for his forever home in mid-December 2013. He loves his older forever home sister, has grown to be quite handsome, and is doing very well.
Also in mid December, Santa found a loving family looking for a pair of kittens to grow up together. Just before Christmas, Illy and Winter were adopted by the same family and officially became sisters.
As the newest members of the Foster Fail club, we adopted Zuzu and the littlest Niblet, Viola, in late December 2013.
All the Niblets now have loving forever homes, thanks in part to all their website and Facebook fans. We couldn't have raised this bunch without your comments, suggestions, and daily kind words. We thank you!
You can read the beginning of the Niblets here when we posted a rare second post of the day beginning at 4:40 p.m. (please scroll to bottom of post to start and make your way upward for all updates).
7/4/2014, on her 9 month birthday, Viola weighed in at 8.2 lbs. Mama Zuzu weighed in at 11.2 lbs.
12/4/2014: Viola weighed in a 9.4 lbs. Mama Zuzu weighed in at 11.2 lbs.
Niblet Weight Chart week 12
(Red font denotes weight loss.)

| Date | Illy (adopted) | Viola (adopted) | Robbie (adopted) | Russell (adopted) | Mama Erinn Zuzu (adopted) |
| --- | --- | --- | --- | --- | --- |
| 12/28/2013 | - | ADOPTED! | - | - | ADOPTED! |
| 12/27/2013 | - | 3 lb 1 oz | - | - | - |
| 12/26/2013 | - | 2 lb 15 7/8 oz | - | - | - |
| 12/25/2013 | ADOPTED! | 2 lb 14 7/8 oz | - | - | - |
| 12/24/2013 | 3 lb 4 3/8 oz | 2 lb 14 3/4 oz | - | - | - |
| 12/23/2013 | 3 lb 3 5/8 oz | 2 lb 14 oz | - | - | - |
| 12/22/2013 | 3 lb 2 1/2 oz | 2 lb 12 5/8 oz | - | - | - |
| 12/21/2013 | 3 lb 2 1/8 oz | 2 lb 12 1/2 oz | - | - | 10.0 lb |
Niblet Weight Chart week 11
(Red font denotes weight loss.)

| Date | Illy | Viola | Robbie (adopted) | Russell (adopted) | Mama Erinn Zuzu |
| --- | --- | --- | --- | --- | --- |
| 12/20/2013 | 3 lb 1 3/4 oz | 2 lb 12 1/4 oz | - | - | - |
| 12/19/2013 | 3 lb 1 3/8 oz | 2 lb 11 1/4 oz | - | - | - |
| 12/18/2013 | 2 lb 13 5/8 oz | 2 lb 10 1/2 oz | - | - | - |
| 12/17/2013 | 2 lb 13 7/8 oz | 2 lb 9 5/8 oz | - | - | - |
| 12/16/2013 | 2 lb 13 5/8 oz | 2 lb 9 1/8 oz | - | - | - |
| 12/15/2013 | 2 lb 14 3/8 oz | 2 lb 8 3/4 oz | - | - | - |
| 12/14/2013 | 2 lb 15 oz | 2 lb 8 1/2 oz | - | ADOPTED! | 10.6 lb |
Niblet Weight Chart week 10
(Red font denotes weight loss.)

| Date | Illy | Viola | Robbie | Russell | Mama Erinn Zuzu |
| --- | --- | --- | --- | --- | --- |
| 12/13/2013 | 2 lb 14 1/8 oz | 2 lb 8 3/8 oz | - | 2 lb 13 7/8 oz | - |
| 12/12/2013 | 2 lb 12 7/8 oz | 2 lb 7 1/4 oz | - | 2 lb 11 7/8 oz | - |
| 12/11/2013 | 2 lb 11 1/2 oz | 2 lb 6 1/4 oz | - | 2 lb 10 7/8 oz | - |
| 12/10/2013 | 2 lb 8 1/8 oz | 2 lb 4 3/4 oz | - | 2 lb 9 1/8 oz | - |
| 12/9/2013 | 2 lb 6 1/2 oz | 2 lb 2 1/4 oz | - | 2 lb 7 3/4 oz | - |
| 12/8/2013 | 2 lb 5 1/4 oz | 2 lb 2 3/8 oz | - | 2 lb 8 oz | - |
| 12/07/2013 | 2 lb 6 1/2 oz | 2 lb 1 1/2 oz | ADOPTED! | 2 lb 9 7/8 oz | 10.0 lb |
Niblet Weight Chart week 9
(Red font denotes weight loss.)

| Date | Illy | Viola | Robbie | Russell | Mama Erinn Zuzu |
| --- | --- | --- | --- | --- | --- |
| 12/06/2013 | 2 lb 8 1/8 oz | 2 lb 3 oz | 2 lb 6 1/8 oz | 2 lb 11 1/2 oz | - |
| 12/5/2013 | 2 lb 8 7/8 oz | 2 lb 3 5/8 oz | 2 lb 6 5/8 oz | 2 lb 11 1/8 oz | - |
| 12/4/2013 | - | - | - | - | - |
| 12/3/2013 | 2 lb 8 7/8 oz | 2 lb 3 1/8 oz | 2 lb 6 1/2 oz | 2 lb 9 3/4 oz | - |
| 12/2/2013 | 2 lb 7 5/8 oz | 2 lb 2 7/8 oz | 2 lb 5 1/4 oz | 2 lb 8 5/8 oz | - |
| 12/1/2013 | 2 lb 7 3/8 oz | 2 lb 2 7/8 oz | 2 lb 5 1/8 oz | 2 lb 8 1/2 oz | - |
| 11/30/2013 | 2 lb 6 1/2 oz | 2 lb 3 1/8 oz | 2 lb 4 oz | 2 lb 7 1/4 oz | 10.4 lb |
Niblet Weight Chart week 8
(Red font denotes weight loss.)

| Date | Illy | Viola | Robbie | Russell | Mama Erinn Zuzu |
| --- | --- | --- | --- | --- | --- |
| 11/29/2013 | 2 lb 6 oz | 2 lb 1 1/8 oz | 2 lb 3 1/8 oz | 2 lb 6 7/8 oz | - |
| 11/28/2013 | 2 lb 5 7/8 oz | 2 lb 1 5/8 oz | 2 lb 2 5/8 oz | 2 lb 6 5/8 oz | - |
| 11/27/2013 | 2 lb 4 5/8 oz | 2 lb 1/2 oz | 2 lb 2 oz | 2 lb 5 7/8 oz | - |
| 11/26/2013 | 2 lb 3 5/8 oz | 1 lb 15 1/4 oz | 2 lb 1 1/8 oz | 2 lb 4 oz | - |
| 11/25/2013 | 2 lb 3 1/8 oz | 1 lb 15.0 oz | 2 lb 3/8 oz | 2 lb 3 1/2 oz | - |
| 11/24/2013 | 2 lb 2 1/8 oz | 1 lb 14.25 oz | 2 lb 0 oz | 2 lb 2 5/8 oz | - |
| 11/23/2013 | 2 lb 2 oz | 1 lb 13.75 oz | 1 lb 15.375 oz | 2 lb 2.50 oz | 10.6 lb |
Niblet Weight Chart week 7
(Red font denotes weight loss.)

| Date | Illy | Viola | Robbie | Russell | Mama Erinn Zuzu |
| --- | --- | --- | --- | --- | --- |
| 12/22/2013 | 2 lb 1 oz | 1 lb 13.375 oz | 1 lb 14.875 oz | 2 lb 1/4 oz | - |
| 11/21/2013 | 2 lb 1/8 oz | 1 lb 12.0 oz | 1 lb 14.125 oz | 1 lb 15.750 oz | - |
| 11/20/2013 | 1 lb 15.625 oz | 1 lb 11.375 oz | 1 lb 13.25 oz | 1 lb 15.125 oz | - |
| 11/19/2013 | 1 lb 15.125 oz | 1 lb 11.125 oz | 1 lb 12.25 oz | 1 lb 14.625 oz | - |
| 11/18/2013 | 1 lb 14.50 oz | 1 lb 10.0 oz | 1 lb 12.0 oz | 1 lb 12.75 oz | - |
| 11/17/2013 | 1 lb 13.50 oz | 1 lb 9.875 oz | 1 lb 11.50 oz | 1 lb 12.375 oz | - |
| 11/16/2013 | 1 lb 13.125 oz | 1 lb 8.875 oz | 1 lb 10.375 oz | 1 lb 11.875 oz | 10.8 lb |
Niblet Weight Chart week 6
(Red font denotes weight loss.)

| Date | Illy | Viola | Robbie | Russell | Mama Erinn Zuzu |
| --- | --- | --- | --- | --- | --- |
| 11/15/2013 | 1 lb 12.50 oz | 1 lb 8.875 oz | 1 lb 10.25 oz | 1 lb 10.875 oz | - |
| 11/14/2013 | 1 lb 12.125 oz | 1 lb 8.50 oz | 1 lb 9.375 oz | 1 lb 11.375 oz | - |
| 11/13/2013 | 1 lb 11.125 oz | 1 lb 7.375 oz | 1 lb 8.50 oz | 1 lb 9.875 oz | - |
| 11/12/2013 | 1 lb 10.625 oz | 1 lb 6.50 oz | 1 lb 7.875 oz | 1 lb 9.375 oz | - |
| 11/11/2013 | 1 lb 9.75 oz | 1 lb 6.0 oz | 1 lb 7.50 oz | 1 lb 8.625 oz | - |
| 11/10/2013 | 1 lb 9.25 oz | 1.5.50 oz | 1 lb 7.25 oz | 1 8.125 oz | - |
| 11/09/2013 | 1 lb 8.25 oz | 1 lb 5 oz | 1 lb 7 oz | 1 lb 7.25 oz | 10.0 lb |
Niblet Weight Chart week 5
(Red font denotes weight loss.)

| Date | Illy | Viola | Robbie | Russell | Mama Erinn Zuzu |
| --- | --- | --- | --- | --- | --- |
| 11/08/2013 | 1 lb 7.25 oz | 1 lb 3.875 oz | 1 lb 5.75 oz | 1 lb 6 oz | - |
| 11/07/2013 | 1 lb 7 oz | 1 lb 3.625 oz | 1 lb 5.125 oz | 1 lb 6 oz | - |
| 11/06/2013 | 1 lb 6.50 oz | 1 lb 2.625 oz | 1 lb 4.875 oz | 1 lb 5.25 oz | - |
| 11/05/2013 | 1 lb 5.625 oz | 1 lb 2.625 oz | 1 lb 4.375 oz | 1 lb 4.625 oz | - |
| 11/04/2013 | 1 lb 4.875 oz | 1 lb 2.125 oz | 1 lb 3.50 oz | 1 lb 4.125 oz | - |
| 11/03/2013 | 1 lb 4.25 oz | 1 lb 0.875 oz | 1 lb 2.625 oz | 1 lb 3.0 oz | - |
| 11/02/2013 | 1 lb 4.375 oz | 1 lb 1.125 oz | 1 lb 2.625 oz | 1 lb 3.50 oz | 10.4 lb |
Niblet Weight Chart week 4
(Red font denotes weight loss.)
| Date | Illy | Viola | Robbie | Russell | Mama Erinn Zuzu |
| --- | --- | --- | --- | --- | --- |
| 11/01/2013 | 1 lb 3.875 oz | 1 lb 1.375 oz | 1 lb 2.875 oz | 1 lb 3.625 oz | - |
| 10/31/2013 | 1 lb 3.50 oz | 1 lb 0.375 oz | 1 lb 2.125 oz | 1 lb 3 oz | - |
| 10/30/2013 | 1 lb 2.875 oz | 1 lb 0.25 oz | 1 lb 2 oz | 1 lb 2.375 oz | - |
| 10/29/2013 | 1 lb 2.5 oz | 15.625 oz | 1 lb 1.375 oz | 1 lb 2 oz | - |
| 10/28/2013 | 1 lb 2 oz | 14.875 oz | 1 lb 0.625 oz | 1 lb 1.375 oz | - |
| 10/27/2013 | 1 lb 1.50 oz | 15.0 oz | 1 lb 0.25 oz | 1 lb 1.375 oz | - |
| 10/26/2013 | 1 lb 1.25 oz | 14.6250 oz | 1 lb 0.125 oz | 1 lb 0.875 oz | 10.8 lb |
Niblet Weight Chart week 3
(Red font denotes weight loss.)
| Date | Illy | Viola | Robbie | Russell | Mama Erinn Zuzu |
| --- | --- | --- | --- | --- | --- |
| 10/25/2013 | 1 lb 0.875 oz | 14.375 oz | 15.875 oz | 1 lb 0.25 oz | - |
| 10/24/2013 | 1 lb 0.50 oz | 13.75 oz | 15.0 oz | 1 lb 0.375 oz | - |
| 10/23/2013 | 15.50 oz | 13.0 oz | 15.25 oz | 15.875 oz | - |
| 10/22/2013 | 15.125 oz | 12.625 oz | 14.125 oz | 15.125 oz | - |
| 10/21/2013 | 14.375 oz | 12.0 oz | 13.375 oz | 14.875 oz | - |
| 10/20/2013 | 14.125 oz | 12.0 oz | 13.0 oz | 14.50 oz | - |
| 10/19/2013 | 13.625 oz | 11.125 oz | 12.625 oz | 13.75 oz | 10.8 lb |
Niblet Weight Chart week 2
| Date | Illy | Viola | Robbie | Russell | Mama Erinn Zuzu |
| --- | --- | --- | --- | --- | --- |
| 10/18/2013 | 13.0 oz | 10.625 oz | 12.0 oz | 13.375 oz | - |
| 10/17/2013 | 12.375 oz | 10.375 oz | 11.75 oz | 12.875 oz | - |
| 10/16/2013 | 12.125 oz | 9.875 oz | 11.375 oz | 12.25 oz | - |
| 10/15/2013 | 11.875 oz | 9.375 oz | 11.0 oz | 11.875 oz | - |
| 10/14/2013 | 11.125 oz | 9.125 oz | 10.375 oz | 11.25 oz | - |
| 10/13/2013 | 10.625 oz | 8.50 oz | 9.75 oz | 10.75 oz | - |
| 10/12/2013 | 10.125 oz | 7.875 oz | 9.625 oz | 10.125 | 10.8 lb |
Niblet Weight Chart week 1 – born October 4, 2013
| Date | Illy (f) | Viola (f) | Robbie (f) | Russell (m) | Mama Erinn Zuzu |
| --- | --- | --- | --- | --- | --- |
| 10/11/2013 | 9.875 oz | 7.25 oz | 9.0 oz | 9.875 oz | - |
| 10/10/2013 | 9.125 oz | 7.0 oz | 8.50 oz | 9.25 oz | - |
| 10/09/2013 | 8.50 oz | 6.50 oz | 7.875 oz | 8.50 oz | - |
| 10/08/2013 | 7.875 oz | 6.0 oz | 7.375 oz | 7.750 oz | - |
| 10/07/2013 | 7.0 oz | 5.50 oz | 6.75 oz | 6.75 oz | - |
| 10/06/2013 | 6.50 oz | 5.25 oz | 6.25 oz | 6.375 oz | - |
| 10/05/2013 | 5.75 oz | 4.625 oz | 5.625 oz | 5.50 oz | 11.4 lb |