Thank you, Mindy, Moe, Cookie and Mike of Team Tabby, for bestowing upon us the Honey, I Shrunk the Pig Many Babies Blog Award! We couldn't be more thrilled and neither could our many babies! Thank you!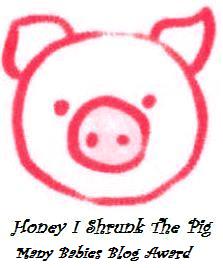 ~~~~~~~~~~~~~~~~~~~~~~~~~~~~~~~~~~~~~
Now, to the Wild Cat Storm:
Winds calm, Barometer constant, limp seas with gentle swells. But wait! Instability predicted on the horizon. Alert: This is a wild cat storm warning. Hang onto your hats!
Suddenly, from the south, a squall line builds. This is a typical cat inversion. A low-level jet stream barrels in. Windspeed increasing with backing winds gusting at thirty-five, the dipping barometer indicates a low-level convergence increase developing with a typical Stratiform cloud appearance.
Rising tail cloud with rapid rotating sidedraft building into a classic supercell. Surface windspeed forty-five miles per hour with gusts to sixty.
Directional shear indicates variable tail speed. Look for a strong microburst to hit the toy box shortly with damaging gust frontal attacks.
Pia: Hey Tessa, you okay up here? That weather announcer voice was starting to drive me a bit bonkers. How about you?
Tessa: Naw, I'm good.