Please click image to enbiggen
My dearest ginger Prince D,
I am sitting here in our rare December sunshine thinking of you and sending all my sunshiny kisses across the miles to you. May you and your family have a wonderful Christmas together and a happy, healthy, and safe New Year!
Forever your lil' bean,
Pia
~ ~ ~ ~ ~ ~ ~ ~ ~
Sending kisses and thanks to everyone who sent us cards for our mantel: Boomer, Dai$y, and Toona from de land oh Trout, Sasha, Grady Lewis & Joan, Jeanne, the cats and all the foster kittens from Random Felines, Pam, Hemmingway & Steinbeck, Flynn, Jackie & Ivor, Leo, Cashmere, Glitter & Andrea, Savvy, TKS, Mom L and Dad P, Peaches & Paprika and their assistant Carol, Annabelle, Boo, Ping, Jinx & Mom Debra, Melissa and Mudpie, Cheri, Dan and the Cats of Wildcat Woods, Hannah, Lucy & Mum Sue, Timmy, Toby, Buddy, Mr. Buttons, Miss Fitz, Einstein and Dad Pete, Luke & Trixie and all our favorite vets, Carmine, Milita, and Angel Jewel, Robyn, Fred, Stefan, and the Crooked Acres Gang, Raz, Allie, and Ellie, Wally, Ernie & Zoey, Max, Kirby, Angel and Mom Nan, Penny, Sammy, KaTwo, Prancie, Joanie, Brody, Snowball, Jinx, Tallulah, Noel, Millie, and Polar Bear, Monika, Bob, Munchkin, Obsidian, Ashlyn & Cosettee, Rachel, Dexter, Olive & Sophie, Zorro, Pixie & Claire, Chuck, My Angel, Patty O'Malley, Sweetie and Vicky, Truffle, Brulee, and Mom Paula.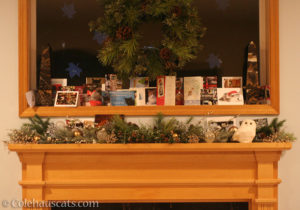 (Please click image to enlargerate.)