Our 2016 Christmas Card featuring Zuzu and the Christmas minions is here! Click our icon over there in the far right column or here to Save As and collect your own!
~ ~ ~ ~ ~ ~ ~ ~ ~
Here's what blurry-eyed Mom wakes up to every morning. Ruby's all like, "Finally, you're awake! I got so tired waiting, I had to rest my cheek on this bed roll. Hey, you gonna pet me now?"
Meanwhile, at the foot of the bed, Zuzu takes her time waking up and knows the petting will come to her eventually.
~ ~ ~ ~ ~ ~ ~ ~ ~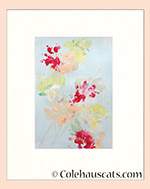 Quint's original paintings make the perfect holiday gift for those who think they have everything! He'd love knowing his creations found their forever homes this holiday season. And one hundred percent of your purchase of Quint's art goes toward sister Sunny's recent vet bill. Click on Quint's Art Shop icon over on the far right sidebar –> or visit his art shop directly by clicking here.