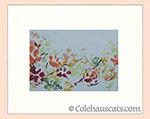 It's not too early to think of Quint's original paintings making the perfect holiday gift! Click on Quint's Art Shop icon over on the far right sidebar –> or visit his art shop directly by clicking here. There are lots of selections hoping to find their forever homes this year. Maybe yours?
~ ~ ~ ~ ~ ~ ~ ~ ~
We don't often get snowfall here at Colehaus. When we do, it's exciting, maybe not for drivers or snow haters, but for Mom who grew up in the desert, it's a magical event!
This past January*, we brought a teensy snowball inside to see who might be interested in it. Wouldn't you know it was Tessa who commandeered the whole thing. Well, mostly Tessa.
The unsuspecting victim.
Passing the sniff test.
Intruder alert! Intruder alert!
Mom: Tessa, can't you share with your little sister?
Tessa: Um, no?
Ah, peaceful enjoyment at last.
Insert slurping sounds here.
Hey! Someone scared my snowball and it melted!
Mmmm, snowball juice.
And then, Tessa went behind the curtain to take a private bath because sometimes, she's bashful that way. Bashful… Tessa? Yeah, right.
*tsk tsk* Mom, it's the end of November. You're just now taking these photos off the camera?